The Centre for Asian Legal Studies and the Allard Prize are running a series of talks on Xi Jinping's anti-corruption campaign in China and its implications. The series will focus on the following questions:
How will the relationship between the state and civil society in China evolve as the anti-corruption campaign continues?
What room might there be for civil society to curtail corruption in the long term?
What implications can be expected from Canada's involvement in this campaign?
The talks are open to the public and will be held at the Peter A. Allard School of Law. Future talks will be posted on both the Allard Prize Twitter and on the events calendar on the Allard Law website. Please check this page regularly for a new summary of each talk as they unfold.
***
Randall Morck, Professor and Stephen A. Jarislowsky Distinguished Chair in Finance, University of Alberta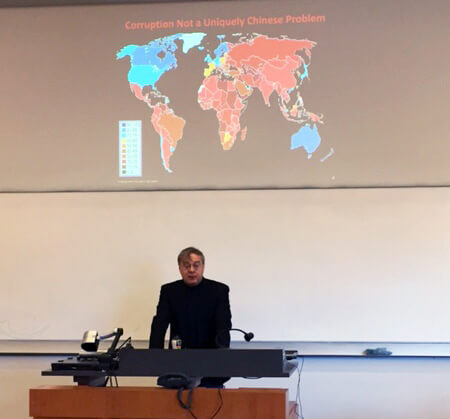 On January 10, 2017, Professor Randall Morck based his talk on a National Bureau of Economic Resarch (NBER) working paper, which examined the Chinese government's anti-corruption campaign from the perspective of investor expectations in the Chinese stock market. Chinese shares rose sharply in reaction to a December 2012 announcement initiating the anti-corruption campaign. Professor Morck and his coauthors analyzed how price swings differed depending on whether a listed company is a state-owned enterprise (SOE), whether it operated in a Chinese province with a high level of market liberalization, and how much the company had historically spent on entertainment expenses.
They found that the shares of SOEs generally rose during this episode, indicating that investors expected anti-corruption efforts to curtail SOE executives' private perks. However, only privately-owned firms that operated in liberalized provinces saw their shares gaining, suggesting an investor expectation that anti-corruption efforts would lower barriers to markets and external financing. By contrast, non-SOEs in non-liberalized provinces saw their shares drop in value, and the drop was most significant for firms that had spent heavily on entertainment expenses—costs that might have been necessary to "grease the bureaucratic wheel."
The contrasting results among different groups of non-SOEs vindicate a theory, which Professor Morck has elaborated through a long line of publications, that market development and anti-corruption reforms are mutually reinforcing. Curtailing corruption is necessary to make market entrepreneurship rewarding, and evidence from the Chinese stock market suggests a positive impact on the Chinese economy of the government's recent initiative. 
***
Huihua Nie, Professor in the School of Economics and Deputy Dean of the National Academy of Development and Strategy at China's Renmin University
On February 14, 2017, Professor Huihua Nie presented his and his co-authors' research covering topics such as what determines corruption, whether or not corruption affects economic efficiency and how China can effectively fight corruption. They use both objective and subjective indices to track the evolution and the geographic distribution across provinces of corruption levels in China. Based on one such index — the amount of time firms spend meeting with government agencies — they found preliminary evidence that corruption varies based on geographical networks.  
On the issue of corruption's impact on economic efficiency, Professor Nie argued that for the Chinese anti-corruption campaign to result in economic growth, de-regulatory policies have to be carried out in parallel. In particular, the reduction of corruption may have negligible effect on the economy if state-owned enterprises continue to dominate. This complements a major theme of the earlier talk in this series by Professor Randall Morck, who had argued that anti-corruption policies are necessary for market liberalization policies to induce economic growth.
Finally, on the question of how to effectively fight corruption, Professor Nie and his co-authors studied whether a policy to "parachute" officials into different provinces to lead anti-corruption efforts resulted in greater prosecution of corrupt officials. The evidence shows that it does not, and Professor Nie argues that even greater independence for anti-corruption agencies is needed in China than currently exist. 
***
Eva Pils, Reader in Transnational Law at The Dickson Poon School of Law at King's College London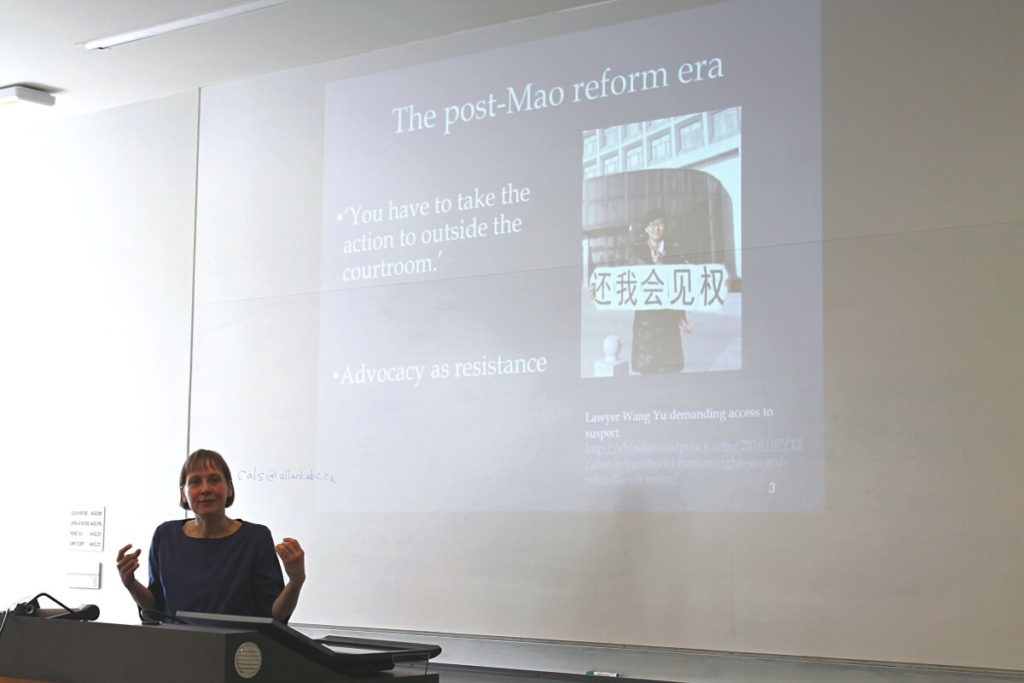 On November 1, 2017, Dr. Eva Pils spoke on the topic of "Rule of Law Reform and the Rise of Rule by Fear in China". Professor Pils argued that in the post-Mao era, efforts at legal reform had increasingly offered the promise of liberalism: this promise was seized upon by human rights activists, especially "weiquan" (standing by rights) lawyers, and emblematized by the public debate and government reform surrounding the 2003 Sun Zhigang incident. However, Professor Pils argued that such promise has largely been dashed under the Xi Jinping regime, where tools of government repressions are openly brandished instead of hidden, and where the rule of law is explicitly made subordinate to Party control. In light of these developments, Professor Pils urges caution against the acceptance of the notion of "authoritarian legality": authoritarianism and the rule of law are likely to be fundamentally incompatible. 
***
Ling Li, Lecturer at the Department of East Asian Studies at the University of Vienna
On September 10, 2018, Dr. Li presented her research article "Politics of Anticorruption in China – Paradigm Change of the Party's Disciplinary Regime 2012-2017." The presentation outlined how Xi Jinping's large-scale, anti-corruption campaign transformed into a power consolidation exercise between the years 2012 and 2017. In her talk, Dr. Li explored two questions: how did Xi pull off a high-impact, anti-corruption campaign against the interests of every power-holder within the Chinese Communist Party, and how did the transformation of the campaign into a power-consolidation exercise occur?
In response to the first question, Dr. Li first demonstrated the scale of the anti-corruption campaign. Between 1982 and 2017, the number of party members disciplined for corruption spiked sharply; at the time of the party's 18th Congress. Furthermore, the number of high level officials, or "giant tigers," who were disciplined at the time of the 18th Congress increased dramatically. Next, Dr. Li explored the factors leading to the unusually high impact of this anti-corruption campaign. These factors included the political will and leadership of Xi Jinping and Wang Qishan (the former head of the Central Commission for Discipline Inspection, or CCDI), as well as methodological reform and more vigorous enforcement. In this campaign, anti-corruption rules were applied to high-ranking members of the Politburo, rather than just lower level officials. Additionally, existing transparency practices such as requiring party officials to report incomes to their superiors were more widely exploited to find evidence of corruption.
Political motivations for this campaign became evident over time. Dr. Li went on to discuss how Xi Jinping came to use the anti-corruption campaign, which began as non-political, for his own power consolidation. An ideological campaign used in synchronization with a disciplinary campaign helped to bridge the anti-corruption movement with the policing of political conduct. The campaign resulted not only in a higher number of disciplined corrupt officials, but also a paradigm shift in the disciplinary regime of the Party. Xi's campaign has led to the reversal of the de-politicization process of the party's disciplinary regime, the expansion of anti-corruption resources, and the simplification of corruption discipline procedures.
Dr. Li concluded by summarizing the state of the anti-corruption campaign as of late 2017. She noted the National Supervisory Commission, a joint anti-corruption agency with immense power, has been founded, and the CCDI's power has been expanded significantly. Through all this, Xi Jinping has strengthened his control over the anticorruption agency and gained greater leverage over party members.