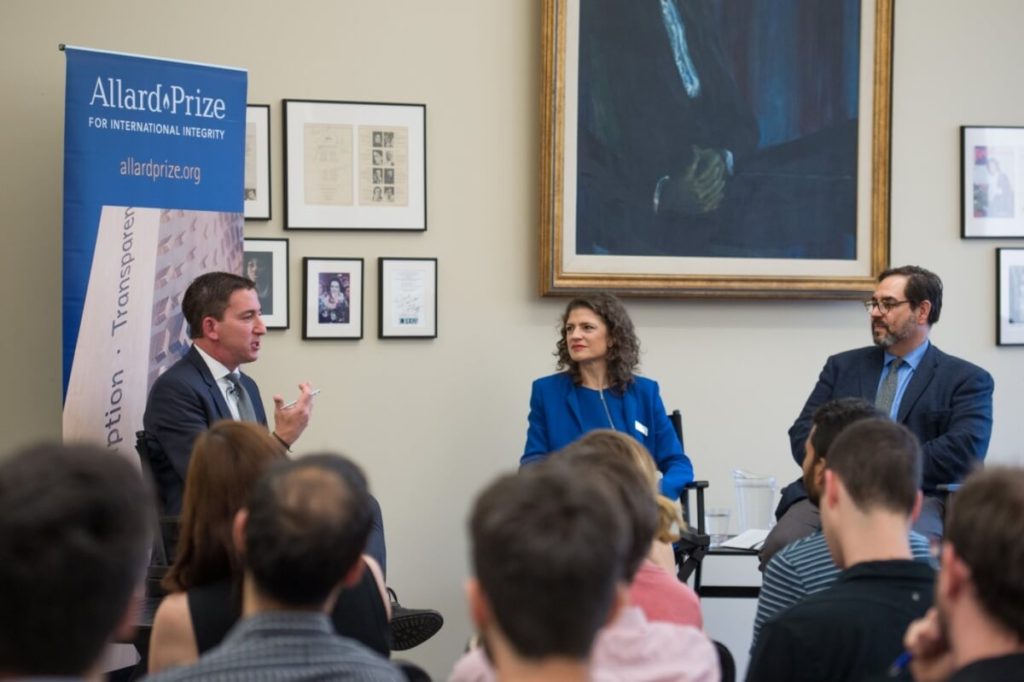 Left to Right: Glenn Greenwald, Nicole Barrett, and Peter Klein 
Prior to the Allard Prize Ceremony on September 28, 2017, media personnel and students from the University of British Columbia gathered for a question and answer session with keynote speaker Glenn Greenwald, who broke the story of U.S. whistleblower Edward Snowden and co-founded The Intercept. The session was co-moderated by Nicole Barrett, Executive Director of Allard Prize Initiatives, and Peter Klein, Director of the UBC School of Journalism's International Reporting Program.
In a lively discussion, Glenn discussed a wide range of topics including his work to reveal the extent of U.S. government surveillance with Edward Snowden, the challenges he's encountered in starting a news organization like The Intercept and the role of political divisions and "fake news" in human rights and corruption reporting.
Glenn Greenwald answers questions from UBC Students 
Highlights included Glenn's discussion on the role and responsibility of journalists in the context of protecting whistleblowers, which he suggests is the most important question facing journalists today. He raised the fact that governments are increasingly criminalizing and cracking down on activists and informants who leak government secrets in an effort to prevent further leaks by scaring potential whistleblowers. He took significant issue with the fact that governments are increasingly prosecuting whistleblowers as spies under espionage laws, drawing a distinction between spies, who seek to undermine the state by sharing secrets, and whistleblowers, who seek to benefit the public through their actions. In the context of technological advances that have made transfers of information easier and larger, Glenn cautioned that journalists, lawyers, and human rights activists have a duty to ensure that they protect their clients and sources from governments or others who might seek to prosecute or punish them for revealing information or engaging in activism. He suggested that understanding encryption should be a priority for individuals engaged in these kinds of work.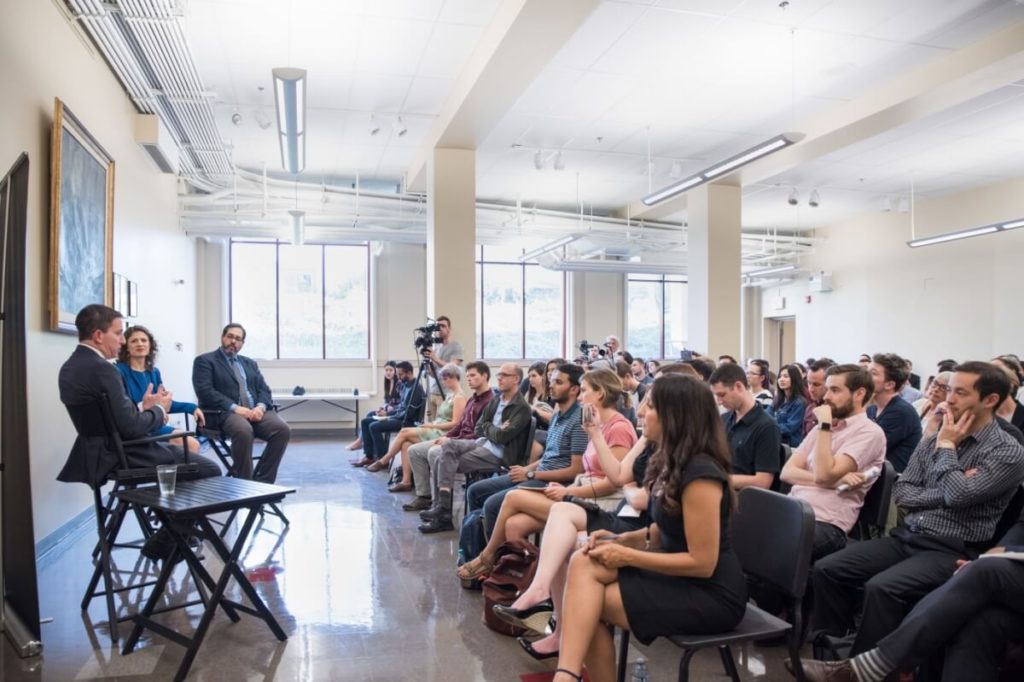 UBC students and members of the media watch the Q&A session 
Glenn commented on the Allard Prize honourees, suggesting that all three have demonstrated courage by persisting with their work. He drew parallels between Azza Soliman and Khadija Ismayilova, pointing out that both women have faced extreme levels of persecution from their governments because of the work they have engaged in. He expressed admiration for the fact that Azza and Khadija have continued with their work despite this oppression. Glenn noted that the work of the Car Wash Task Force (Força Tarefa da Lava Jato) has been to confront generations of corruption at the highest levels of political power in Brazil and that they have been very successful in doing so. Glenn stated that he had some reservations with several mistakes made by the Car Wash Task Force, including leaking wiretapped phone conversations, but noted that there is "no instruction manual" when it comes to anti-corruption work, and thus mistakes should be expected.
Glenn closed the session by advising young journalists and activists who want to fight against corruption and for human rights to always remember the passion that brought them to the field, even if they have to make sacrifices. He suggested that because the internet makes finding an audience difficult, young journalists should refine their interests and develop expertise in a particular area in order to offer unique perspectives not available elsewhere.
Watch the full question and answer session with Glenn Greenwald below: