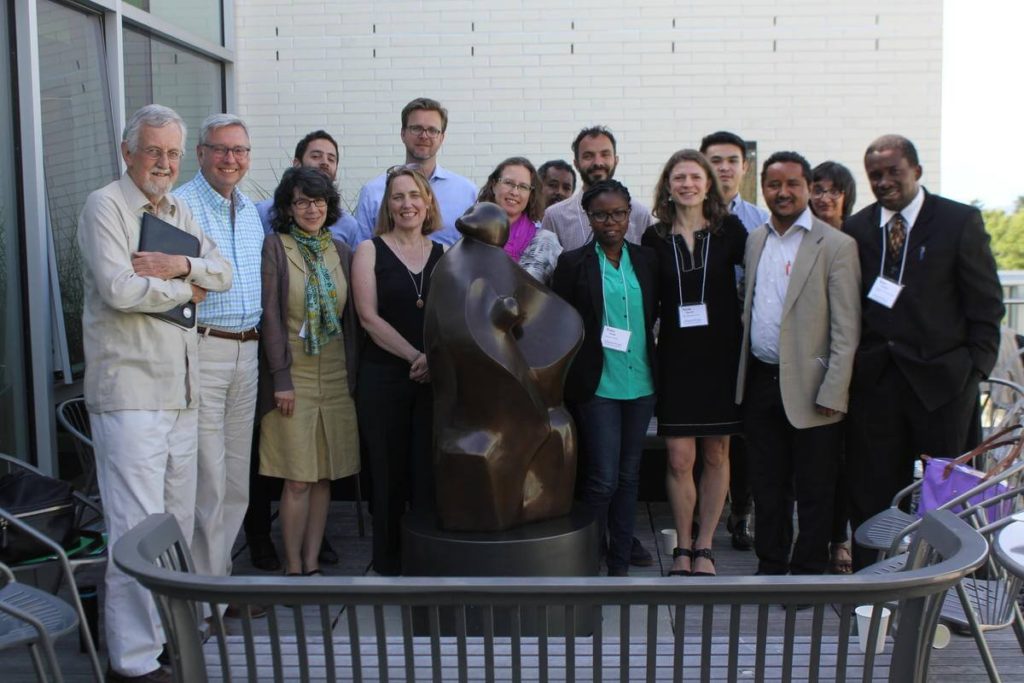 From June 8-10, 2015, the Peter A. Allard School of Law was the site of a unique Junior Scholar Workshop on Human Rights. Among the Workshop's aims was the goal of better incorporating non-Western perspectives in scholarly and activist discourses and research agendas about human rights.
Scholars working around the globe and in diverse areas of legal study are actively unpacking the concept of 'non-state actors' and investigating what an analysis of the non-state brings to legal scholarship. The workshop's focus on 'Law and Human Rights: the Role of the State and the Non-State' intended to interrogate the concept of the state and the non-state in the work of eight junior legal scholars. The Workshop provided a collegial opportunity to access and to strengthen emerging scholarship coming from outside Western scholarly traditions and venues.
This transnational initiative to foster legal scholarship reached out specifically to junior scholars working in countries of the so-called Global South. Eight junior scholars were selected to participate in this Workshop through a rigorous international competition. They came to Vancouver from Sudan, India, Tanzania, Argentina, Ghana, Colombia, Thailand and Ethiopia. They were joined by Allard School of Law faculty members and by two senior scholars who provided intellectual inspiration throughout the workshop, Professor Peter Fitzpatrick and Professor Stephen J. Toope.
For the workshop participants, these few days in Vancouver provided a space for critical explorations of subjects ranging from domestic responses to terrorism to the need to accommodate local populations in foreign investment law to sexual violence. There were opportunities to critique methodologies, to discover new literatures, and to explore diverse directions and possibilities for legal scholarship. The workshop also made space for discussions about the challenges of combining scholarly and activist agendas in protecting human rights.
Some of the scholars participating in the workshop have shared their reflections on this experience and we capture the workshop here in their words:
For Mohamed Abdelsalam Babiker the workshop was unique in nature, because it engaged scholars from the Global South with UBC Professors who provided valuable critique and insight concerning their scholarly work. Professor Babiker adds that the level of intellectual debate during the workshop has bridged some of the existing gaps between North-South expertise and knowledge, and may offer a future platform for further scholarly interactions.
Nicolás Marcelo Perrone points out that the workshop was a fantastic experience to have. Discussing the papers intensively for two days was very inspiring, and many new ideas emerged on how to improve his scholarly work. The possibility of meeting both the faculty of UBC and the rest of the junior scholars has been priceless, leading to many possibilities for collaboration and fruitful exchanges of ideas.
For Pratiksha Baxi it was the productive feedback and a thoughtful format that generated a unique epistemic space rare to find within the confines of a law school. The attempt to generate a critical solidarity between disparate disciplines and locations speaking to the relationship between law, social suffering and rights was a huge learning experience for her.
Nahuel Maisley argues that the format allowed for very in-depth discussions, and that Allard Law School faculty (as well as two distinguished guests) did a great job in commenting on the papers very thoroughly. Despite coming from very different cultures, the dialogue was not only possible but also very fruitful. International human rights law became a form of lingua franca, a common framework of cosmopolitan deliberation in which all could participate.
For Peace Medie the workshop afforded a unique opportunity to discuss her work with legal experts. She especially appreciates the fact that discussions recognized, and were in turn informed by, the links between law, human rights, and other sociopolitical issues.
The junior scholar workshop was an exceptionally innovative event which was particularly helpful for Hiruy Wubie Gebreegziabher. For him the fact that junior scholars still have a possibility of continued networking with UBC professors is a privilege to enjoy. The thoughtful presence and advice of Professors Stephen J. Toope and Professor Peter Fitzpatrick were noted by Hiruy as a particularly valuable aspect of this rare experience.
The Workshop organizers are hugely indebted to the Allard Prize for International Integrity for its intellectual inspiration and its financial support, both of which have made this Workshop possible.