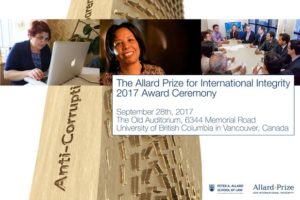 The 2017 Allard Prize for International Integrity will be awarded at a ceremony to be held in Vancouver, Canada on September 28th, 2017. The $100,000 CAD Prize was established in 2012 and is one of the largest anti-corruption prizes in the world.
The finalists for this year's prize are Azza Soliman (Egypt), Khadija Ismayilova (Azerbaijan), and Car Wash Task Force (Brazil). The keynote speaker at this year's ceremony will be internationally renowned journalist Glenn Greenwald.
This year's award ceremony is presented by:  
ABOUT THE FINALISTS:
Azza Soliman – A renowned women's rights lawyer, Azza Soliman is the co-founder of the Center for Egyptian Women's Legal Assistance (CEWLA). She has dedicated her life to fighting corruption and injustice faced by Egyptian women in both the private sphere and the judicial system. She started her activism in 1995 when she was arrested after exposing the torture imposed on female members of the Islamic Group. Soliman has worked to support women's access to justice by using progressive interpretations of religion to influence legislation and combat the monopoly and corruption of religious institutions. In 2015, Soliman was unjustly charged with unauthorized protest and public order violations after testifying against a policeman who she witnessed killing a female human rights defender during a protest. In response, she founded the "Protecting Witnesses and Whistleblowers Coalition" to help enhance the Rule of Law. Currently, the Egyptian government has curtailed Soliman's freedom by freezing her law firm's and her own private assets and banning her from traveling outside Egypt.
Khadija Ismayilova — As an investigative journalist in Azerbaijan, Khadija Ismayilova writes about high-level corruption and misuse of power in Azerbaijan for the Organized Crime and Corruption Reporting Project (OCCRP) and Radio Free Europe's Azerbaijani service. In 2010, Ismayilova revealed the corruption of Azerbaijan's President, Ilham Aliyev, reporting that the President's wife and children owned real estate in the United Arab Emirates worth USD $44 million. In 2013, Ismayilova received private video footage of herself in her home from an anonymous source, with a note warning her to behave. She was arrested in 2014 and sentenced to seven-and-a-half years in prison on charges that many saw as retaliation for her reports. In 2016, the Supreme Court of Azerbaijan released Ismayilova on probation but forbade her to travel abroad for five years without official permission.
Car Wash Task Force (Força Tarefa da Lava Jato) – This Brazilian anti-corruption prosecution task force has worked to prosecute some of the most powerful Brazilian economic and political elites. "Operation Car Wash" began as a local money laundering investigation and grew into the largest probe to date uncovering cases of state capture and grand corruption in Brazil. Its investigations have resulted in over 280 persons charged, 157 convictions, 1,563 years of cumulative jail time and restitution agreements of over US$3 billion. The Task Force's work has led to the most significant anti-corruption bill in Brazil's history, supported by over 2 million Brazilian citizens, and underscores the message that everyone is equal under the law and even the most powerful leaders will be held accountable.
ABOUT THE KEYNOTE SPEAKER:
The keynote speaker will be American journalist and author Glenn Greenwald, who broke the story of U.S. whistleblower Edward Snowden to the world and co-founded the award-winning news outlet, The Intercept. The Intercept covers national security, politics, criminal justice and more, and gives its journalists the editorial freedom and legal support they need to pursue investigations that expose corruption and injustice.