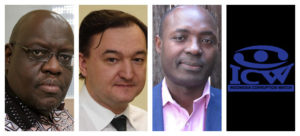 The Peter A. Allard School of Law, at UBC, announced today the four finalists for the 2015 Allard Prize for International Integrity. Created and funded by alumnus Peter A. Allard, Q.C., the $100,000 prize is one of the largest awards in the world recognizing efforts to combat corruption and promote human rights. It was first awarded in 2013.
"At great personal risk and sacrifice, and with courage and leadership, the four finalists for the 2015 Allard Prize have been compelling in their fight for transparency, accountability, the Rule of Law, and against corruption," says Peter Allard.  "We want to honour these heroes and tell their stories, in the hope that doing so will inspire change — not just in our systems, but in each of us personally."
The 2015 Allard Prize finalists are:
John Githongo – Former journalist and government-employed corruption fighter from Kenya, Githongo risked his life and career to expose one of the biggest government corruption scandals in the country's history, and subsequently has led grassroots advocacy efforts aimed at creating and mobilizing an informed citizenry against corruption and injustice.
Indonesia Corruption Watch – This research and evidence-based advocacy group is Indonesia's leading organization focused on fighting corruption. It has been successful in bringing numerous cases of political and judicial corruption to the forefront.
Sergei Magnitsky – After uncovering a large-scale government tax fraud in Russia, Magnitsky, a lawyer, was arrested and held in custody for 11 months without trial. His subsequent in-prison death brought international attention to human rights violations and corruption in his home country.
Rafael Marques de Morais – This Angola-based human rights activist and journalist has dedicated his career to raising public awareness of government corruption, conflict diamonds, army brutality and corruption in the oil industry.
The winner of the Allard Prize will be announced on October 1, 2015 as part of UBC's Centennial, a year-long celebration of 100 years of research innovation, learning and community engagement.
"The Allard Prize holds a very special place in the heart of the Allard School of Law," says Dean Catherine Dauvergne.  "It recognizes the law school's longstanding commitment to human rights, and its commitment to making real change happen in the world.  We are grateful for the generosity of Peter Allard that makes this award possible."
BACKGROUNDER
The Allard Prize for International Integrity
Established in October 2012 and funded by alumnus Peter A. Allard, Q.C., the Allard Prize for International Integrity is awarded to an individual, movement or organization that has shown exceptional courage and leadership in combating corruption, especially through promoting transparency, accountability and the Rule of Law. After a comprehensive nomination and selection process, four finalists were selected from 146 nominations from 53 countries around the world.
The Allard Prize, which is administered by the Peter A. Allard School of Law, is steered by the Allard Prize Committee composed of representatives of both the Allard School of Law and the private sector, in consultation with the Allard Prize Advisory Board composed of members of the anti-corruption and human rights communities worldwide. Learn more: www.allardprize.org.
The Allard Prize Committee
Allard Prize Foundation:
Robert W. King, Principal, Westbridge Capital Group
Geoff Lyster, Partner, Fasken Martineau DuMoulin LLP
Richard Olson, Lawyer, McKechnie & Company
Peter A. Allard School of Law:
Natasha Affolder, Associate Professor, University of British Columbia
Joel Bakan, Professor, University of British Columbia
James Stewart, Associate Professor, University of British Columbia
The Allard Prize Advisory Board
Dr. Marianne I. Camerer, M.A., M.Phil., Ph.D.
Programme Director, Graduate School of Development Policy and Practice
University of Cape Town
Cape Town, South Africa
Dr. Mark S. Ellis, B.S., J.D., Ph.D.
Executive Director
International Bar Association
London, England
Mr. James M. Klotz, LL.B.
Partner
Miller Thomson LLP
Toronto, Canada
Professor Susan Rose-Ackerman, B.A., Ph.D.
Henry R. Luce Professor of Jurisprudence Law and Political Science
Yale University
New Haven, CT, United States of America
Justice Ellen G. Northfleet
Partner
Ellen Gracie Advogados Associados
Rio de Janeiro, Brazil
Clare Wee, Esq.
Head, Office of Anticorruption and Integrity
Asian Development Bank
Manila, Philippines
Stephen Zimmermann, Esq.
Director of Operations, Integrity Vice Presidency
The World Bank
Washington, DC, United States of America
Allard Prize Photography Competition
The Allard Prize Committee also oversees the semi-annual Allard Prize Photography Competition, which recognizes photographic excellence reflecting the ideals of the Allard Prize. Each winning entrant receives a $1,000 cash prize and will be featured on the Allard Prize website for six months. Up to six photographs will be selected every six months. Learn more>
Peter A. Allard, Q.C.
The Allard Prize for International Integrity was created by Peter A. Allard, Q.C., as part of his 2011 gift of $11.86 million to the law school. This gift also supported the creation of the Faculty's new home, Allard Hall. On January 22, 2015, UBC announced a transformational $30‑million gift from Mr. Allard.  Mr. Allard's gift is the largest ever to a Canadian law school.  In recognition of this gift, which will enable the faculty to build on its reputation for championing human rights, the university named the law school the Peter A. Allard School of Law.
Throughout his career as a lawyer and businessman, Mr. Allard has assumed leadership roles in human rights, environmental advocacy and other philanthropic work. Mr. Allard graduated from UBC with a B.A. in History in 1968, and a LL.B. in 1971. After graduation, Mr. Allard practiced law and participated in various business enterprises. In 1993, he established the Highbury Foundation, which has assisted medical communities in B.C. and Alberta with support for research and the purchase of medical equipment. The Highbury Foundation has also made significant donations to colleges and universities across Western Canada for scholarships and building needs.
Peter A. Allard School of Law
The Peter A. Allard School of Law is committed to being one of the world's great centres for legal education and research. As part of an outstanding public university situated in one of the most open, diverse and beautiful places in the world, the Allard School of Law offers an inspiring environment that combines rigorous professional legal training with an awareness of the role of law in society.  Its faculty engages in research with national and global reach and provides students with some of the most extensive and innovative curricular opportunities of any Canadian law school. The law school offers strengths in many fields, including business law, international law, environmental and natural resources law, and Indigenous legal issues. Graduates have gone on to leadership positions in a broad range of spheres, from the legal profession, to government, public interest organizations, business and academia. Learn more>
This announcement is also available in French, Russian, Portuguese and Indonesian.